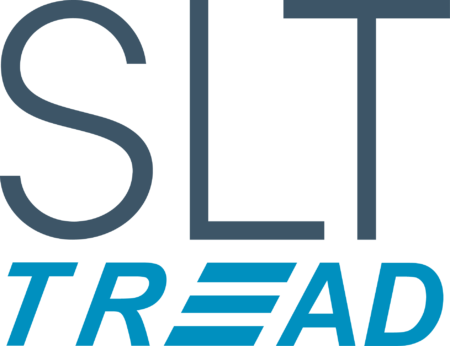 TWO

MACHINES,

ONE

HIGH INTENSITY WORKOUT

SLT Tread is our newest concept where toning meets cardio, featuring a combination of 25 minutes on the Megaformer (toning each muscle group to exhaustion) and 25 minutes on the Woodway treadmill (with fast-paced intervals sure to leave you breathless). Expect to be sore and sweaty!

Exclusively at our new NYC studio in NoMad.
88 Madison Ave. (between 28th + 29th)
#treadfasttoneslow
INTRO
The Intro class has extra time allotted for the Megaformer portion of class so new clients can get a little bit more familiar! Everyone in class will start on the Megaformer, then move to the treadmill together so that the instructor can give you dedicated attention during each modality.
FULL BODY
Experience a full body routine on the Megaformer, including upper body, obliques, legs, glutes and core. Plus, get pushed to your limits on the Treadmill with a variety of intervals, hills and more.
ABS & ASS
The toning portion of this class will focus on center core, obliques and glutes.
ABS & ARMS
The toning portion of this class will focus on center core, obliques and upper body.
CORE
The toning portion will center on core, obliques and back.
FAQS
First time? We got you!
WHO IS SLT TREAD FOR?
Everyone! Can I do SLT Tread if I have never done SLT before? Absolutely! New clients are welcomed and encouraged to try this workout. Our instructors will be in the studio before class to get you set up on the Megaformer and give pre-class tips to help guide you through class. After class, the instructor will be available to answer any questions you may have. If you are new to SLT, we do encourage you to pick a spot starting on the Megaformers.
BOOKING CLASS
When you sign up, you pick a starting spot.
You can decide to start on the Megaformer or start on the treadmill.
If it is your first time, we suggest you start on the Megaformer. But don't worry, you can't go wrong.
WHAT TO BRING
Tread: Sneakers
Megaformer: Just like SLT, grip socks are required*
*Make sure you bring both grip socks for the Megaformer and regular socks for running.
Grip socks are available for rent if you need them, and both regular and grip socks will be available for purchase.
PRE-CLASS ARRIVAL
Arrive 15 minutes ahead of class to ensure you have enough time to check in and get situated.
CLASS
2 ROUNDS: 25 minutes on the Megaformer & 25 minutes on the Woodway treadmill.
You start on the spot you selected when booking and switch with the corresponding machine during your workout.
THE SWITCH: You will have 2 minutes to switch in between rounds (this is when you swap your gear). Don't forget to double tie your sneakers for the treadmill, and wear your grip socks for the Megaformer.
STRETCH: 2 minutes to reward yourself after this sweat sesh. Stay, cool down and stretch with us!
* The Intro Class is formatted by starting on the Megaformer for a 35 minute round, followed by 15 minutes on the Treadmill.
POST CLASS
Enjoy our beautiful new space. We have showers, hair dryers, and anything else you may need! Snap a photo and share on social! We love to share the love. #slttread #treadfasttoneslow
Click here to learn more about the original SLT workout!